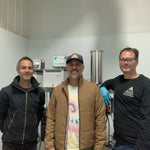 Wait, what exactly is hemp extraction?
Simply put, it is the removal of cannabinoids from the plant biomass using food-grade solvent. The solvents are recovered, and crude oil is distilled to create a high-potency, well-refined extract. This is then infused into a wide variety of CBD products.
Goodland Extracts leverages their proprietary technologies and state-of-the-art processing practices to deliver the highest quality cannabis extracts to their customers. Blending reputable backgrounds in business, engineering, and chemistry, the leaders at Goodland Extracts are committed to cultivating quality processing through safe practices, pure ingredients, and innovation on a global scale.
Goodland Extracts not only provides the highest quality extracts to their partners, but they also produce premium consumer-ready products for their end customers. Their product lines include Relief sticks and balms, infused gummies with a clean ingredient list, tinctures, creams, and roll-ons.
The team at Goodland Extracts also offers education backed by knowledge and expertise, and unmatched service founded in transparency – find their COA's clearly displayed on their website - that has built their credibility, trust, and position as a leader in the cannabis industry.
Goodland Extracts is based in Milwaukee but utilize their technologies to reach partners and customers everywhere. Visit their website to learn more about their technology, processing, and quality standards and follow them on Instagram, @goodlandextractsllc, to explore more of their organization and stay up to date with their growth in their hometown and beyond.
Photo from left to right: John Crocket - Founder  | Ryan Pattee - Founder | Eric Johnson - Founder  | Missing: Will Boettcher - Founder