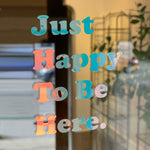 We met Jack Braun when he wandered into Kind Oasis a few weeks ago. 
Jack is inspiring. He is laid back, effortlessly cool, and wildly intelligent. He's young but dialed in on big goals to change the world. He skateboards and studies mechanical engineering at UW-Milwaukee. He works for Milwaukee Tool, and is also focused on his passion project - Just Happy to be Here. 
Just Happy to be Here is more than a phrase - it's a movement that Jack and his team have launched and are pushing forward to raise awareness and break the stigma around mental health. 
Just Happy to be Here was inspired by Jack's own experiences with depression and anxiety. Jack's not alone in this - anxiety, the most common mental illness, is closely tied to depression and affects about 40 million adults in the US. These numbers experienced exponential growth when the pandemic hit, and have not yet seen significant stabilization or reduction. 
After trying several commonly prescribed anti-anxiety medications to alleviate symptoms, Jack found the best relief for him came through holistic practices, like meditation and CBD. It was in this space that he learned mindset really is everything, and we do have the power to control the way we receive, interpret, and respond to situations. 
Just Happy to be Here is a product of this revelation in Jack's life. His goal is to bring forth a brand rooted in positivity and relativity that can help us shift our thinking, even just a little. 
When asked about his brand, Jack told us, "At Just Happy To Be Here we fight negativity with gratitude. Whether it be negative thoughts, experiences, or people; A little gratitude goes a long way."
Just Happy to be Here is a fresh, Milwaukee-based brand - launching just a few weeks ago. Jack has created a team of 8 individuals, 6 of which are college students. Currently, they have branded stickers for sale, and are in production to roll out additional swag, like t-shirts, crew necks (yes, please!), and hoodies. As JHTBH ramps up, they will begin working with local businesses and charities to put on events that promote gratitude and help spread awareness.
Follow @justhvppytobehere on Instagram to watch them grow from the ground up and come into @thekindoasis to get some Just Happy to be Here OG designs. 
Welcome to the party, Jack. We're happy to know you.