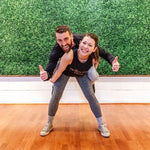 You know that feeling when something just feels so organically good? That is the experience Collective Flow offers… every. single. time.
Inspired by their vision for whole body health, movement professionals Jess and Mike Chirchirillo launched Collective Flow in 2020, creating a community committed to #feelinggoodfirst through blending yoga classes, personal training, and functional health coaching.
Jess and Mike brought a fresh, holistic experience to Milwaukee's east side when they opened Collective Flow's original studio space within Kind Oasis - a modern apothecary driving wellness solutions through premium, handcrafted CBD products.
Collective Flow's presence in the Milwaukee area and beyond has cultivated a following that has been trending upward since the beginning, leading Jess and Mike to expand into a new, private studio. 
The Kind Oasis team is beyond grateful for growing alongside Collective Flow through the new-business-hustle, a pandemic, and everything in between. We are hyped for Collective Flow's new studio opening in the east side neighborhood at 1533 E Belleview Pl, Milwaukee, where classes, coaching sessions, and locally made wellness products from Kind Oasis, Nourish Natural Products, and Milwickee Candles will be offered.
We are going to miss Jess and Mike's positive energy and natural charm, but are excited to welcome Collective Flow back into the Kind Oasis event space for pop-up markets, special classes, and more. Follow @collectiveflowmke and @thekindoasis for event schedules.
To celebrate their growth and thank their community, Collective Flow is offering a membership presale deal, stacked with feel good perks and amenities.
Join Collective Flow for their first class - and soft studio opening - in their new space on Sunday Oct. 3 and mark your calendars for their grand opening party October 23 & 24. You will feel good.
Congratulations, Jess and Mike!
Learn more about Collective Flow's approach to whole body health and find their class schedule at https://collectiveflowmke.com/ and join their community on Instagram @collectiveflowmke.