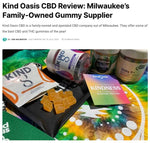 ...Led by a passionate family-driven team in Milwaukee, Kind Oasis has established itself locally as a trusted supplier of high-quality CBD products.
I wanted to see what all the fuss was about and find out if Kind Oasis really were as good as I'd heard, so I got hold of some of their most popular products to try out for myself.
In this Kind Oasis review, I'm going to share what I thought about their products, as well as take a closer look at the brand to see how they've made such a profound impact on the Milwaukee CBD scene.
Will the products be able to live up to my expectations? And how will the brand hold up under scrutiny?
Let's dive in... Click here to read the rest!
CBD Incubator is a great community that shares news on the latest research, innovations, and our own personal experiences with CBD. They provide a vast network for sourcing safe and effective CBD brands, products, and information.